Description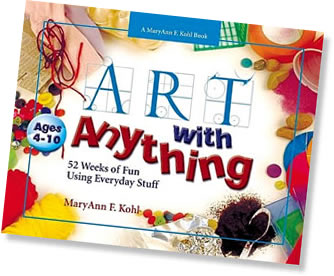 With fifty-two weeks of fantastic art projects using ordinary materials, Art with Anything provides a year of creativity, imagination, and fun!
Organized alphabetically by material, each of the fifty-two weeks features five days of activities, increasing in complexity with each day: Day 1 is basic, Days 2 and 3 are more challenging, Day 4 is a craft project, and Day 5 is multi-faceted or fancy.
Children will love making "Glitter Photo Jars" or working on "Shake-It-Up-Bag Paintings," and projects like "Family Finger Puppets" and "Fluff-N-Puff Mobiles" will keep them entertained for hours and stretch their imaginations.
Whether at home or at school, in child care or an after-school program, exploring the process of creating art is one of the most compelling ways children learn, and Art with Anything keeps children learning creatively all year long!
Try an art activity from Art with Anything!
Art With Anything has recently been awarded the 2010 Silver Moonbeam Award:
"The Moonbeam Awards are intended to bring increased recognition to exemplary children's books and their creators, and to celebrate children's books and life-long reading. Each year's entries are judged by expert panels of youth educators, librarians, booksellers, and book reviewers of all ages."
Art With Anything has been awarded the prestigious National Parenting Publications Award:

"This book is a great resource for parents who want to do arts and crafts with their kids, but need a little help with suggestions and materials. Perfect for a rainy day project, Art with Anything offers 52 weeks of ideas using everyday materials for children ages 4-10. The book is organized alphabetically by material and each week features one everyday material (leaves, pieces of fabric, buttons, rocks, junk mail, etc.) and provides five days of activities that increase in complexity with each day. Children are prompted to reuse and recycle household discards and to let loose their imaginations in such projects as "Glitter Photo Jars," "Family Finger Puppets, or "Shake-It-Up-Bag Paintings." Parent testers enjoyed having an array of project ideas all in one place, which they could refer back to time and time again."