by MaryAnn F. Kohl
Copyright © 2014 Bright Ring Publishing, Inc. All rights reserved.
For questions or permissions to reprint,write to us here, or phone 800-480-4278.
VISIT A SHOE STORE AND VOLUNTEER TO RECYCLE THEIR THROW-AWAY EMPTY SHOEBOXES INTO A CARDBOARD RACEWAY FOR TOY CARS, TRUCKS, AND OTHER WHEELED VEHICLES!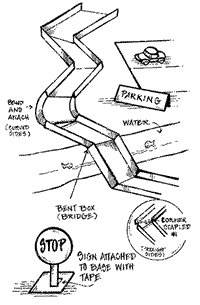 Materials:
• Variety of shoeboxes and lids, cereal boxes, tea boxes
• Scissors, tape stapler, glue
• Old file folders
• Cardboard and paper scraps
• Markers
Steps:
1. Collect all types of lightweight cardboard boxes, especially lids of shoeboxes.
2. Cut away the two short ends of the lids to make sections of walled track (see illustration).
3. Join the lids with tape.
4. To form curves, but strips of lightweight cardboard, and staple (see illustration).
5. With additional boxes, cardboard and paper, build bridges, overpasses, gas stations, and taxi stands.
6. Draw parking spaces on a large sheet of cardboard. Use this as a parking lot for the vehicles. Add arrows and directional signs for traffic control.
7. Bring in the vehicles for raceway and traffic play.
More Ideas:
• Construct traffic signs and signals from paper and cardboard scraps
• Build an entire town with any of the following features:
airport runways
bus depot
schools
farms
stores
houses
train stations
zoos
parks
marina, boats