About Bright Ring Publishing, Inc.
Happy 32nd Anniversary to Bright Ring Publishing
1985 – 2017
In 2017 Bright Ring Publishing and author MaryAnn Kohl CELEBRATE 32 wonderful years of bringing art activities to children all over the world!

Dear Artsy Kid, Parent, Teacher, and Friend,
Welcome to my website! Enjoy your visit as you browse art ideas, books, and fun links to explore. I would like to introduce you to my company, Bright Ring Publishing, and tell you a little about myself too. If you have questions or would like to write to me, you can be sure I will read your letters and find answers to all your questions.
---
Bright Ring Publishing, Inc. has been publishing award-winning art activity books for children since 1985. MaryAnn Faubion Kohl (that's me!) is the primary author or co-author of all the books we publish. My titles, which include Scribble Art, Mudworks, Mudworks Bilingual Edition, Good Earth Art, Science Arts, Storybook Art, Discovering Great Artists, and Great American Artists for Kids, have captured the imaginations of children, teachers and parents worldwide. I also write books for Gryphon House, Inc. including the titles Preschool Art, Cooking Art, Global Art, MathArts, Making Make-Believe, and The Big Messy Art Book. Some of the awards my books have receivedare:
2010 Moonbeam Awards for Activity Books: Games, Arts, Crafts
First Place, Arts Appreciation Category, Practical Homeschooling Magazine, 2002
Mayor's Art Award in the division of Education and Support, Bellingham, WA 2001
Director's Choice Award 2001 for Big Messy but Easy to Clean Up Art
1999 Gold Award for Best Parenting book from the National Parenting Publications
1999 Top Ten Award from The Education Source
1997 Directors Choice Award
Numerous Benjamin Franklin Gold and Silver Awards for excellence in independent publishing
1995 ALA Best of the Best Books and Media for Children
1993 Washington Press Communicator Award

About MaryAnn –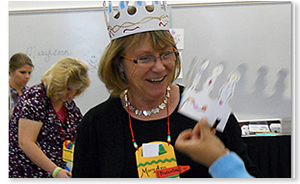 I believe that art is an adventure and an exploration of materials and ideas. I like to say "Art is a Process, Not a Product". Children have only themselves to please as they drip, smudge, glop, glue and sculpt their way through hundreds of open-ended art ideas. The art activities in my books have unlimited creative possibilities with no right or wrong way to create and no set rules or expectations for outcomes. Process art expands the creative experience and awareness of children in all aspects of the visual arts through painting, drawing, printing, sculpture, architecture, and other manipulations of art materials. The activities in my books work well for all ages and abilities.


The Early Days
I founded Bright Ring Publishing, Inc. in 1985 when I published my first book of independent art experiences for children, Scribble Cookies. My background began as an elementary school teacher, later a college educator and educational consultant, and now author and publisher. My interest in children's creative art comes from my years teaching kids from preschool through middle school, teaching kindergarten enrichment and college level courses, and consulting with teachers and parents throughout the world. I love everything creative with children, and art seems to be the thing I love best.
Growing Up
While growing up in Longmeadow, Massachusetts, and later on Bainbridge Island, Washington, my favorite things to do were art, music, reading, and especially playing outside. I treasured my box of pastel chalks, my Indian Princess bicycle, and my brunnette Ginny doll with a trunk full of doll clothes. Now that I've grown up, I live with my husband in Bellingham, Washington where I raised my two grown daughters. And you know what? I still enjoy playing outside! When I'm not writing or publishing, you'll find me reading, skiing, working outside on our property, playing Frisbee with my dog, or enjoying some family fun. Consulting in the schools, offering workshops around the world, writing for Parenting Magazine, and guesting on numerous television shows keeps me busy year round. But it's writing my books and spending time with kids that makes me happiest of all.

I'd Love to Hear from You!
I welcome correspondence from parents, teachers, and kids about my books or about children's art in general. Do you have artwork you would like me to see? You can scan it and send as an attachment to me at info@brightring.com or mail to me at: MaryAnn Kohl, PO Box 31338, Bellingham, WA 98228. I will put the art on my website if you wish, but am unable to return them to you. If you send artwork for my website, please be sure to let me know if you want your name posted with the image on the website or simply left anonymous.
Thanks for visiting me and Bright Ring Publishing,
I look forward to hearing from you.